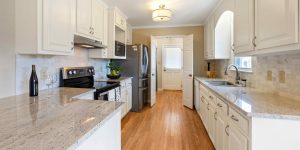 Quartz countertops have been rising in popularity for many years, and with good reason! Quartz is a durable stone that can withstand the wear and tear of everyday life, making it ideal for kitchens and bathrooms. Quartz countertops are also resistant to staining and scratches, which makes them easy to clean. This makes them the perfect choice for any home! Here is a list of the many reasons you should consider upgrading your countertops to quartz: Quartz Countertops St Louis Park MN
1. Quartz Surface is Strong
Quartz is a form of silicon dioxide, which means it's the second hardest material on earth. Quartz surfaces are stronger than granite and marble countertops, as well as concrete. Quartz is harder than glass, steel, porcelain, and most other materials used for countertops.
The strength of quartz makes it an ideal material for your kitchen or bathroom sink area where it will be subject to heavy use over time. It can withstand any type of cleaning product you throw at it without chipping or breaking off the surface.
2. Quartz Surface is Nonporous
Quartz is nonporous, which means it does not absorb liquids. Because quartz is a man-made stone, it's also non-staining. This makes it easier to maintain than other natural stones and less likely to stain or retain odors. Quartz countertops are also low maintenance since they don't need as much sealing or regular waxing as natural stone.
The fact that quartz does not absorb liquids also means that you won't have to worry about damage from those water marks left behind on your countertops after washing dishes or cleaning up spills in the sink (or even condensation from glasses filled with ice-cold drinks).
3. Quartz Surface Resists Stains
Quartz is naturally stain-resistant. It's resistant to most household chemicals, including cleaners and disinfectants, as well as heat and cold. Quartz is also resistant to acids and bases, which means it won't crack when exposed to them. Quartz surfaces are also resistant to alcohol, oils, and grease — meaning you can clean them with little more than soap and water!
4. Quartz Surface is Scratch Resistant
The quartz surface is highly scratch resistant, so you don't need to worry about scratches and scuffs from daily use. It's also stain-resistant and heat-resistant, meaning your quartz countertops will look good for years to come.
Quartz countertops are nonporous, which means they won't absorb stains or odors like granite or marble can.
5. Quartz Surface is Easy to Clean
Quartz is easy to clean. Quartz surfaces are easy to maintain, and they keep their luster over the years. Quartz is also naturally stain-resistant, which means you won't have to worry about your counters getting dirty or looking old in just a few months. When you choose quartz countertops for your home, you can rest assured that no matter how many days go by, they will still look like new!
As a bonus, quartz countertops are also very easy to keep looking beautiful—you won't need any special brushes or cleaning products to keep them sparkling like new! The surface of quartz countertops is nonporous and does not retain dirt, which keeps your counters looking clean and new.
Quartz Countertops St Louis Park MN
Quartz is a great material for countertops because it's durable, easy to clean, and looks great. It comes in a variety of colors and textures so you can find the perfect one for your home. Quartz countertops are also relatively affordable compared to natural stone options like granite or marble which makes them an excellent choice if you're looking for something that doesn't require an investment from your pocketbook. If you're interested in upgrading your countertops to quartz, contact us at Granite Expo in St. Louis Park MN. We are your local countertop experts and would be happy to help you achieve the home of your dreams.
Quartz Countertops St Louis Park MN
Quartz Countertops St Louis Park MN
Quartz Countertops St Louis Park MN