PLAN YOUR PROJECT TODAY!
Our mission is to provide customers with satisfying one stop shop!
Granite Expo LLC offers a variety of quartz, granite, marble, and quartzite. We do custom countertop fabrication and installation. We have remnants for smaller sized projects like vanities. We also have a variety of undermount sinks for kitchens and bathrooms.
We Supply Quartz & Stone From Major Manufactures: Vicostone, Orion, Silestone, Daltile, GS Granite & more.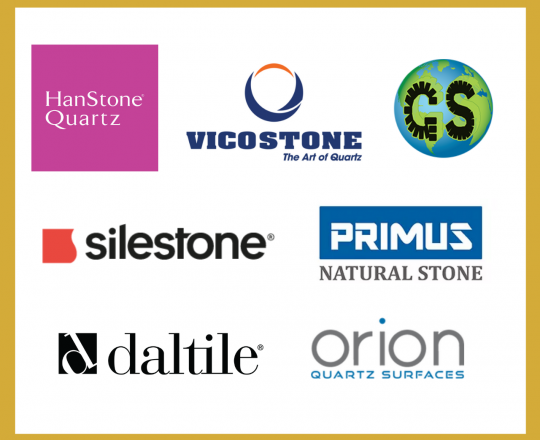 Request a FREE estimate & call us today!
QUARTZ
Engineered stone with low maintenance
GRANITE
Natural stone creating a timeless look
MARBLE
Natural stone creating an elegant look
QUARTZITE
Natural stone creating a luxurious look
QUARTZ
Engineered stone with low maintenance
GRANITE
Natural stone creating a timeless look
MARBLE
Natural stone creating an elegant look
QUARTZITE
Natural stone creating a luxurious look
CLIENT REVIEWS
Hear from our previous clients about their experience!
We had a wonderful experience with Granite Expo. They were very friendly and easy to work with. They have a lot of different kinds of granite and marble to choose from. We are doing a master bath remodel and purchased granite for the countertop, we chose this beautiful brushed granite and it was installed yesterday. It looks amazing and the guys that came onsite to install were very knowledgable and professional. My general contractor had not worked with Granite Expo before but he was so impressed with their selection, professionalism, communication and how quickly they can install after measuring that he said he will be recommending them to other clients. I highly recommend and we will be using them again.
Mark Painschab
2023-02-05
The new counter tops look great and the entire job was complete 5 days after we chose the Quartz we wanted. Granite expo was a pleasure to work with.
Mike Andreyevskiy
2023-01-29
Igor was great to work with! Absolutely a beautiful job, installers did an amazing job installing, everything went smoothly! Highly recommend these folks to work with!
Cox Construction Inc.
2023-01-23
Granite Expo has always done a great job on our projects! Excellent workmanship and always use Granite Expo for our counter top projects! Highly recommend Granite Expo!
Simply the best! I've been working with Granite Expo for the past decade on remodeling projects and they are always on time and on budget!
I have worked with Granite Expo for years and they consistently deliver amazing countertops at good value and always get the job done fast and on-time. They use top of the line laser measuring technology to ensure an exact fit. Highly recommend!
Igor and his staff were very patient as I took 18 months to decide on my quartz selection for kitchen countertops. They gave me the final quote within 24 hours of my decision. The counters were installed 2 weeks later. Igor was present that day. His crew worked meticulously to remove old laminate counters, cut a bar down to counter height and installed counter, backsplash and large sink without damaging cabinets or walls. His plumber recommendation was affordable and hooked up the faucet and disposal 2 hours later. Literally, I had a new looking kitchen within 6 hours. I will use this company again for future projects.
The Granite Expo team recently replaced our kitchen countertops and back splash. From start to finish our experience working with each of the staff was truly phenomenal! They went above and beyond in every aspect of customer service as we tried to decide on the right granite for the space. They were able to schedule us in as soon as we made the necessary decisions and the installation, plumbing and tile work were flawless. We highly recommend the folks at Granite Expo for exceptional value, great customer service and impeccable workmanship!
Jennifer Annett
2022-09-24
The team at Granite Expo did an excellent job. Great workmanship, quality, and price! They were able to accommodate our compressed timeline to keep our remodel project on track. We are so happy with our new quartz countertops, they are beautiful!
Kathleen White
2022-07-08
Outstanding experience with Granite Expo. From planning, to choosing slabs, laser measuring, and instillation everything was perfect. We are thrilled with the quality, craftsmanship, and price of our new countertops. If you are looking for countertops, be it granite, quartz, marble, etc. stop in and see them. You won't be disappointed!
LATEST BLOGS
Check out our blogs for the latest trends & styles!
Undermount sinks are a great option for your bathroom. They're sleek and modern, which makes them the perfect choice for anyone who wants to keep their home looking up-to-date. But what exactly is an under-mounted sink? And how does it differ from an overmount sink? We have answers to all of these questions right here! […]
Quartz and quartzite are both man-made stones that have similar properties. The main difference between them is their composition, which affects how they look and how they're created. You should consider your needs before deciding which one is right for your home or business. Quartzite Countertops in Minneapolis MN What is the Difference Between Quartz […]
Marble countertops are a popular choice for homeowners. They have a timeless quality and they're durable and scratch-resistant. Marble is also unique—you can't get the same pattern or color in another material. That's why marble countertops will give your home an elegant feel that no other countertop could match! Marble Countertops in Mendota Heights MN […]