PLAN YOUR PROJECT TODAY!
Our mission is to provide customers with satisfying one stop shop!
Granite Expo LLC offers a variety of quartz, granite, marble, and quartzite. We do custom countertop fabrication and installation. We have remnants for smaller sized projects like vanities. We also have a variety of undermount sinks for kitchens and bathrooms.
We Supply Quartz & Stone From Major Manufactures: Vicostone, Orion, Silestone, Daltile, GS Granite & more.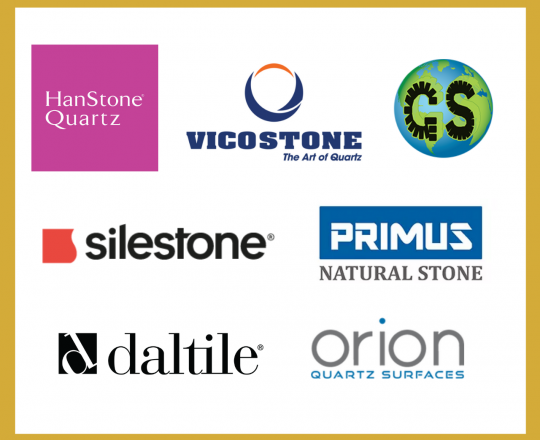 Request a FREE estimate & call us today!
QUARTZ
Engineered stone with low maintenance
GRANITE
Natural stone creating a timeless look
MARBLE
Natural stone creating an elegant look
QUARTZITE
Natural stone creating a luxurious look
QUARTZ
Engineered stone with low maintenance
GRANITE
Natural stone creating a timeless look
MARBLE
Natural stone creating an elegant look
QUARTZITE
Natural stone creating a luxurious look
CLIENT REVIEWS
Hear from our previous clients about their experience!
They are by far the fastest countertop company. The planets aligned and they were able to measure and install the same day. Mind = blown.
10/10 will work with Granite Expo again when we finished our basement. We used them for our new construction homd for a large kitchen and 2 bathrooms. Our quartz and marble countertops are beautiful and installed flawlessly. From the beginning Gabie was quick responses and helpful. Igor sent over pricing and changes in estimates based off my tweaks quickly. When it came to install they were very accommodating in my short timeframe we were working with. They went above and beyond to make it work and played a huge part in helping us close on time.
We had an excellent experience with Granite Expo. They were helpful, knowledgeable, prompt in their communications, and the whole job was scheduled and completed on time—even faster than we anticipated. After install, we realized one of the faucet holes was slightly too small for our insta-hot appliance and they came out to adjust the hole in the countertop almost immediately. Super impressed with the customer service and would happily work with them again. We chose Vicostone quartz Olympus White Countertops and are ecstatic with the result!
Talk about punctual, professional and prioritized with counter tops. Granite Expo has exceeded our expectations and I will recommend to everyone in the future! Picked out our quartz, had measured and installed in two days. Thanks Granite Expo!
Highly recommend reaching out to Igor and his team at Granite Expo for all your countertop needs. Large selection, quality products and quick turnaround. The team that came out for the install was extremely professional, considerate and efficient. Thank you Granite Expo, we are enjoying our new countertops and sink.
Kelsey Schlangen
2021-06-23
I had placed an order through a big box store for a countertop replacement. They quoted us 2 months, which wouldn't work in our timeline. I reached out to Igor with Granite Expo LLC and he said it could be done within a week. Amazingly he and his crew had it done just over 24 hours after I called. I am so impressed with the speed, quality, and price of the materials! I highly recommend them and would use them again in the future. Photos to follow once we finish up the details ☺️
Very helpfull staff have only ordered counter top so far. Ok counter top installed . Great job very good service from start to finish.. would definitely shop here again
Michael Feriancek
2021-06-17
We had a great experience with Granite Expo this past May. They were able to come out to measure and install all under a week. The crew did an awesome job installing our countertops. Highly recommend using them!
I just had granite expo provide countertops for my new kitchen remodel. I had been told by everyone that it would be 6 to 8 weeks wait for countertops. The folks at Granite Expo were extremely helpful and promised a 10 day turnaround. I was thrilled, but I was ecstatic when they told me they could install the countertops only 2 days later. Unheard of! The workmanship is flawless and the service provided by everyone from sales person, owner of company who did the measuring, and the installers was truly terrific. My project did cost a bit more than buying a countertop from Menards, but I was glad to support a small business in Minnesota. These guys (and gals) will work hard for you. Give them a try. By the way, they do cabinets also.
Working with Granite Expo was amazing! Not only was their work beautiful, but the customer service was some of the best I've ever experienced. They were incredibly timely and accommodating. Will 100% use them again and recommend their services to all!
LATEST BLOGS
Check out our blogs for the latest trends & styles!
Bathroom countertop remodel ideas Choose a Classic or Timeless option Bathroom countertops are a great place to start when you want to update your space. They're easy and inexpensive to update, but they can also be one of the most expensive parts of your bathroom remodel if you don't consider all of your options carefully. […]
How to choose the right Bathroom Countertops Measure the Space The first thing to do when choosing bathroom countertops is measure the space you have available. This will help you figure out which size and shape of countertop will fit in the space, as well as what materials are available. Make sure when you measure […]
What Material is best for Bathroom Countertops? Granite Granite is a well-known option for bathroom countertops. The material is hard and durable, making it a good choice for areas that are prone to moisture or high use. Granite can also be finished in a range of colors and patterns, so you can customize your countertop […]